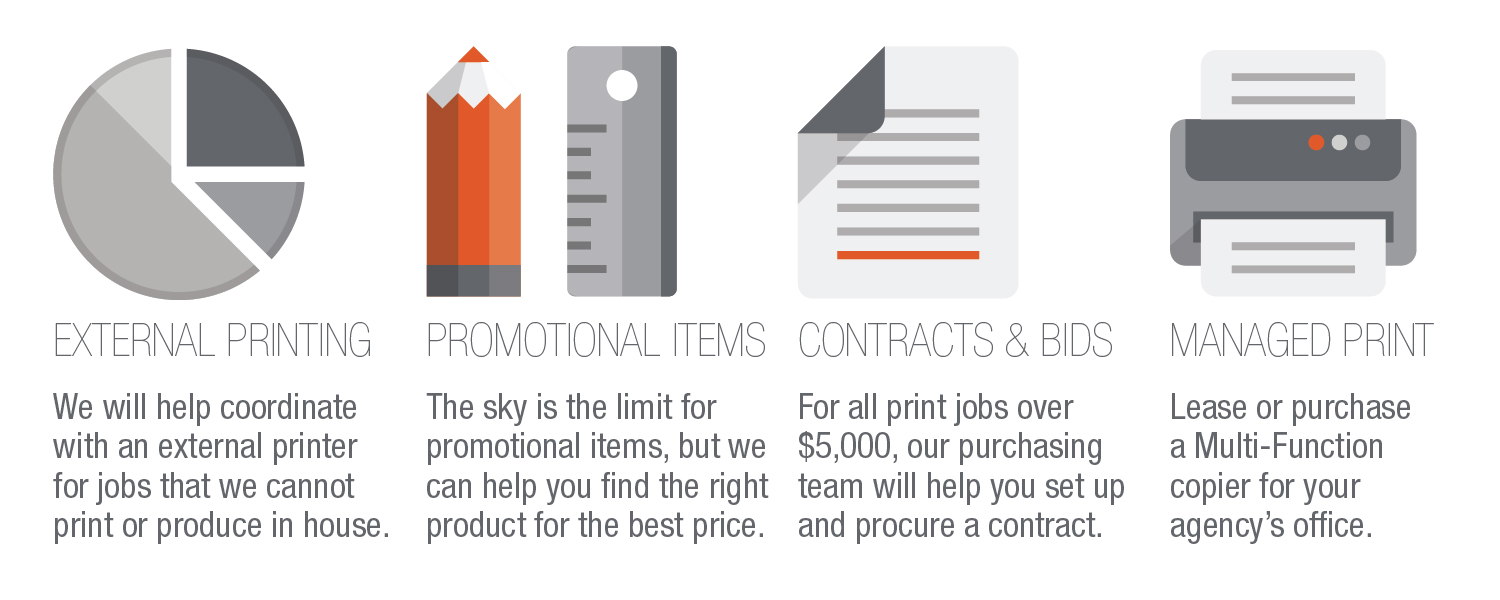 If you work for the State of Montana, you are required by MCA 18-7-101 to use State Print & Mail's services. This includes all printing and the procurement of printing-related purchases. P&M can print a lot of things in house, but for higher volumes and more complicated jobs, we often use external vendors who can produce the project at a better price or within a certain timeframe.
Our most common external jobs are projects with custom elements (colors, folds, embossing), promotional items / swag (souvenirs, wearables, gifts) and larger sheet sizes that won't fit on our copiers. We have a list of reputable vendors who can produce any and all of your print needs, but our purchasing team is on staff to help guarantee prices, timelines and quality. State Print & Mail charges a 8.8% cost recovery rate (with a $800 capped limit) on all purchasing related services or a 20% markup on material purchases. These fees are to recover costs related to product research and availability, providing recommendations based on project needs, and contract management.
PURCHASING
In order to scope your print project accurately, there are several things that we need to know:
Quantity - can be a range or multiple quantities (250, 500, 1000)
Budget - if known can be a range or approximate
Potential options of interest - paper types, sizes, binding styles, etc.
Date needed by - can be a factor in how/where the job is printed
Once you work with our team to get the specifications, the vendor(s) will supply an estimate and the project can proceed to print once you approve the estimate. Depending on the project, P&M's pre-press team may setup your files and provide proofs, or the vendor may supply digital or hard copy proofs. Print & Mail pays the vendor and then your agency will receive an invoice from Print & Mail. Please do not pay a vendor / contractor directly.
UNDER / OVER $5000
For all print projects, no matter the price, you need to order through State Print & Mail. MCA 18-7-101
For any projects totaling under $5000, you need to order through Print & Mail per statute. As the printing subject matter experts, we can suggest items or vendors depending on your project. Feel free to send us a link of the item(s) you are interested in or let us know if you've used a particular vendor before. We can then do research and a competitive analysis to find you the best product / price.
For projects totaling over $5000, there is a required competitive bid process. Print & Mail will solicit at least three bids to ensure the best price amongst other factors. This covers one time purchases, sole source items - anything from special paper stock to promotional items, signage to large runs of printing.
BID SPECIFICATIONS & CONTRACTS
If your project will span or need to be repeated over the course of several years, Print & Mail will help you secure a contract. For new contracts our procurement team will ask questions about the print project, and for contract renewals they will address any changes from year to year. Typically we need 1 - 2 months to set up a new contract and you will see an email about 2 months prior to the renewal date on renewals. It's our goal to make sure you're happy with the end product and that if you have any questions along the way, we can answer them. If things don't go according to plan, please let us know and we will work with the vendor / contractor to resolve any issues. For any projects over $50,000, Print & Mail will loop in and work in conjunction with State Procurement to set up and handle the contract.
Contract Language - Terms and Conditions 
REQUESTS FOR INFORMATION/PROPOSAL
Request for Information
Request sent to potential vendors looking for information, services, quotes, options about a product.
Request for Proposal
Request sent to potential vendors about a specific project to decide which vendor will receive the print contract.
MANAGED PRINT PROGRAM (formerly known as the Copier Pool)
SPM has contracted with 360 Office Solutions to provide on-site assessments for your current and future office printing needs, helping to reduce your copier footprint, increase efficiency while reducing costs. Through the managed print program, you will have access to a large variety of Kyocera multi-function devices with endless configuration options. Service and maintenance are included with your purchase or lease options at very competitive rates. This program is available to all state agencies and serviced throughout the entire State of Montana.
CONTACT INFORMATION:
Ryan Betcher
rbetcher@mt.gov
(406) 444-1833